Shopping Cart
Your Cart is Empty
Thank you for your business!
You should be receiving an order confirmation from Paypal shortly.
Exit Shopping Cart
VITAMIN B-17
THE ULTIMATE GUIDE TO
VITAMIN B-17 METABOLIC THERAPY
G. Edward Griffin
According to the American Cancer Society, this year 550,000 Americans will die from cancer. One out of every three will develop cancer in their lifetime. That is eighty-eight million people in the United States alone.
What you are about to read does not carry the approval of organised medicine. The Food and Drug Administration, the American Cancer Society, and the American Medical Association have labelled it "fraud" and "quackery". In fact, the FDA and other agencies of government have used every means at their disposal to prevent this story from being told.
They have arrested citizens for holding public meetings to tell others of their convictions on this subject. They have confiscated films and books. They even have prosecuted doctors who apply these theories in the effort to save the lives of their own patients.
The purpose of this booklet is to show that this great human tragedy can be stopped now entirely on the basis of existing scientific knowledge. The information you are about to read marshals the evidence that cancer is a nutritional-deficiency disease, like scurvy or pellagra. It is not caused by a bacterium, virus or mysterious toxin, but by the absence of a substance that modern man has removed from his diet.
That substance is Vitamin B-17, also known as Amygdalin or Laetrile. If that analysis is correct, then the treatment and prevention of cancer can be made simple. All that needs to be done is to restore that easily obtained and inexpensive food factor to our daily meals. An increasing number of doctors all over the world are now are testing and proving in their own clinics that the vitamin concept of cancer is true.
As you shall see in the pages that follow, there is a great deal of evidence supporting the nutritionaldeficiency concept of cancer -- more than enough to convince most people that the thesis is proven. This concept is not approved by orthodox medicine. Yet the evidence is clear that here, at last, is the final answer to the cancer riddle.
WORLD WITHOUT CANCER

The Story of Vitamin B17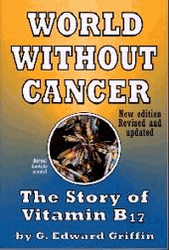 G. Edward Griffin marshals evidence that cancer is a deficiency disease, like scurvy or pellagra, caused by the lack of an essential food factor in modern man's diet. That substance is vitamin B17, also known as Laetrile. This story is not approved by orthodox medicine. The FDA, the AMA, and The American Cancer Society have labeled it fraud and quackery. Yet the evidence is clear that here is the answer to the cancer riddle. Why has orthodox rejected this non drug approach? The author contends that the answer is to be found, not in science, but in politics – based upon the economic and power agenda of those who dominate the medical establishment. Sale now in progress. Click here for more.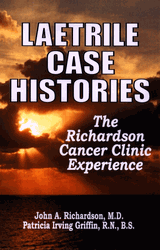 The Richardson Cancer Clinic Experience, by J.A. Richardson, M.D. & Patricia Griffin, R.N. 62 case histories proving beyond any doubt that Laetrile (Vitamin B17) works in the control of cancer. These are not anecdotal stories or people who never had cancer in the first place. Each history is authenticated by a firm diagnosis and meticulous medical documentation. Includes a follow up 30 years after patients were diagnosed as "incurable," Proof is in the life-span of these people who, previously, had been told by their doctors that they had just a few months or weeks to live. Click here for more.
Staying Alive & Well
Means avoiding, consuming or using all foods, water or products containing toxic chemicals.
Eat & Use Only, Organic, Chemical & GMO Free Food & Products
Detox & Drink Herbal Teas, Rebuild Your Immune System & Reclaim Your Life.
Health Products
Support Australia's Better Health Campaign.
Shop & Save online for Groceries, Household Products & Supplements at MyFamilyHealth Online Store:
a Not-for-Profit fundraising initiative promoting Health Education, Awareness & Solutions. Click here
0

/